A freelance web designer should have a clear idea of their niche. By researching the work of other freelance designers, they should understand what their target clients are looking for. It is essential to know about their target client base and the industry as a whole before you start working for clients. Having a clear understanding of your "why" will help you set your price and get your foot in the door. If you don't have any ideas yet, you should research the pricing systems of other entry-level freelance designers to get an idea of what your competition is charging.
Freelance Web Designer

Freelance web designers are professionals who work remotely to create custom websites for their clients. T
hey are generally hired by businesses to design sites that they can use to promote their product or service.

Why is it essential to hire a freelance web designer?
A web designer's responsibility is to understand their client's goals and create a website or application that successfully achieves these goals. Therefore, you need to know all about design elements like colour, typography, layout, grid, spacing, grids, and responsive design.
Steps on How to be a Freelance Web Designer
Create your website with your contact information, working portfolio, and skillset.

For websites that you want to design for someone else, create an online portfolio of the design work you have done in the past with links back to those sites.

Create a professional email address for yourself for use when applying for projects with potential clients

Find some freelance web design jobs on Craigslist

Apply to any freelance projects that you feel confident about winning
Skills Needed in Freelance Web Designer
Web design or coding experience

Mobile app development

User interface design expertise

Knowledge of HTML, CSS, and JavaScript

Computer science expertise

Knowledge of databases, servers, and networking

Experience with web hosting providers (AWS)

Understanding of cybersecurity concepts like DDoS attacks and encryption

Basic understanding of SEO, analytics, and conversion optimization
Should add the following to the list: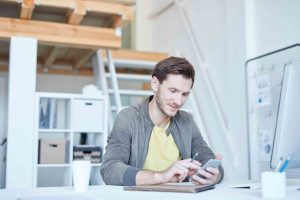 Ability to code in multiple languages like Python/PHP/Ruby on Rails etc.

Good understanding of cloud computing platforms like AWS or Google Cloud Platforms

Understanding of different types of databases used by websites, e.g., MySQL vs MongoDB

Experience working as a developer directly under business owners who are not technical, i.e., nontech co-founders/managers/marketing team members, etc., would be beneficial.

Experience working as a developer directly under business owners who are technical, i.e., other developers.

The ability to communicate with clients and understand their needs, whether they're nontech co-founders/managers or not, will be helpful in the long run for web development companies (startups).
Benefits of Hiring Freelance Web Designer
Flexibility
A freelancer will not be tied down to one client, allowing him to focus on several projects at once. Additionally, he will be able to brainstorm and make recommendations for the website at a faster pace. In addition to this, he will maintain a good balance in all aspects of the website's design. In contrast, people working for an organization are likely to quit or leave without giving notice. The other benefit is a steady income. Finally, a freelance web designer will have the freedom to choose his hours.
Cost
Another benefit of a freelance web designer is cost. Since they don't have office expenses, they can pass on those savings to their clients. They are also more efficient than a large design firm. They can work long hours to meet deadlines and coordinate design revisions with other employees. And, while you're saving money, you'll get a higher-quality website. Therefore, hiring a freelancer for your website is essential to save money and enjoy more freedom.
High-quality Website
When hiring a freelancer, you can rest assured that your website will be of high quality. Unlike agencies, you won't be dealing with a hierarchy. And, unlike agencies, freelancers are flexible, so you can hire a web designer Sydney who suits your budget and requirements. In addition, freelancers also have a vast portfolio of work and can respond to any questions or concerns right away.
Knowledgeable in Business
The best part is that you won't have to worry about hiring someone who isn't familiar with your business. You can trust their experience and expertise. They are also more affordable than a traditional agency. With a freelancer, you can choose a designer who fits your budget. It's also much more flexible, making it an ideal choice for those on a tight budget.
Freelance web designers are more competitive than their corporate counterparts. They can be more affordable and offer better quality work. They can also do their jobs faster than a full-time employee. They can be more responsive and are more willing to meet your needs and requirements. You can also hire a freelance designer for the job. However, a freelancer will cost more than a full-time employee, but they are worth it.