Royalty Free Stock Photos
Great images make your content look better and make it more interesting for your users. It will also help you when creating web design. There are many great paid stock photo websites like Shutterstock. But if your working on a small project with a limited budget it doesn't make sense to spend big money on images. Here's something most people don't know. There are a number of great websites that offer free and creative commons images. I've listed some of the best sites to download royalty free stock photos. I hope this list will help you take your project to the next level.

Pixabay offers over a millions free photos, vector images and videos. The website has been operating since 2010. The image quality on Pixabay is excellent. Pixabay is one of the largest collections of free images on the internet. Pixabay focuses on providing great content to graphic designers, web designers and digital creatives.
Features
Large community of active users
Image reviews
Intuitive interface
Good search function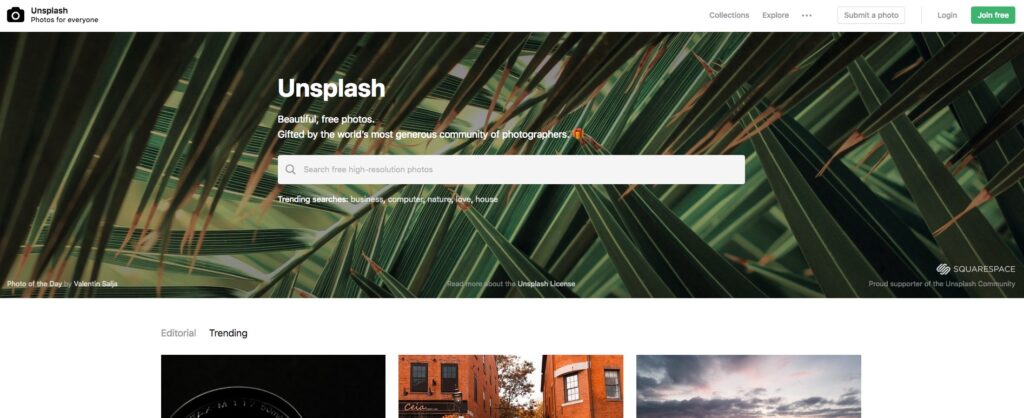 Unsplash is a community of over 90,000 photographers and creators with over half a million pictures. The pictures are free and curated into fantastic collections. The interface is slick and the images are well tagged and ordered into categories.
Features
Like feature to see popular images
With account can collect images into collections
Fast and intuitive interface
Wallpapers and apps for MacOS, iOS and Android
All images are free for personal and commercial use

Pexels aims to help designers, bloggers and small businesses find great images that won't cost a cent. All images on Pexels are licensed under their own license (meaning free for personal and commercial use). Photos are categorised and tagged making it easy to search. Revenue is generated from sponsored images from paid stock photo sites. Pexels has been running since 2014 and is very popular in the digital creative community.
Features
Slick user interface
Chrome web browser extension
Mac and Windows applications
Adobe Photoshop plugin
Microsoft office plugin
WordPress plugin
No attribution required
API access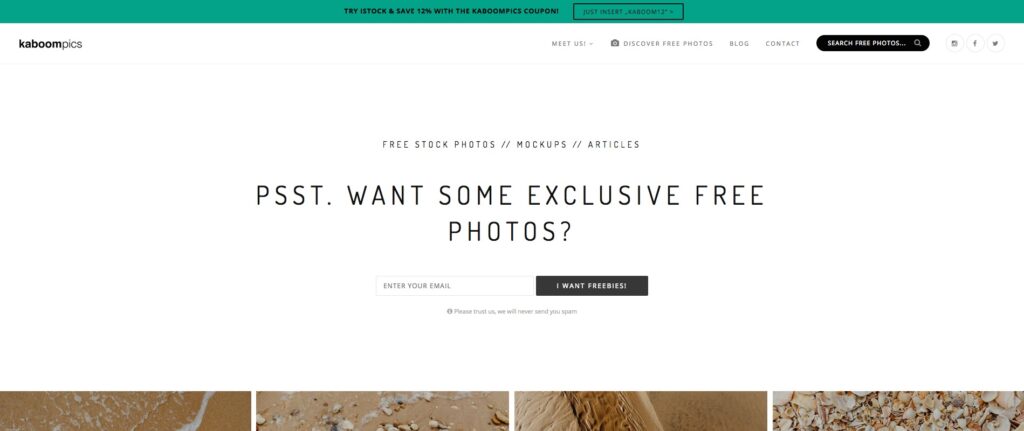 Kaboompics is run by a photographer and designer Karolina. The site features images she has taken and images contributed by other photographers. Images have featured in the sites BBC, CNN, Yahoo and more. Kaboompics is one of the more impressive free stock photo sites. Revenue is generated by showing paid images from other stock photo sites next to the free images.
Features
Great interface
Over 8000 images
New images regularly added
Powerful image search using layout, colours and type
Complimentary colour palettes to go with images
Blog with great content for creatives and small business owners
Multiple image sizes
Related images (often in photo shoots)

Picjumbo has over two thousand high quality stock photos. It was created in 2013 by designer and photographer Viktor Hanacek. They also offer premium images and galleries based off the free images.
Features
High quality images
Curated collections
Photos are free to use in commercial work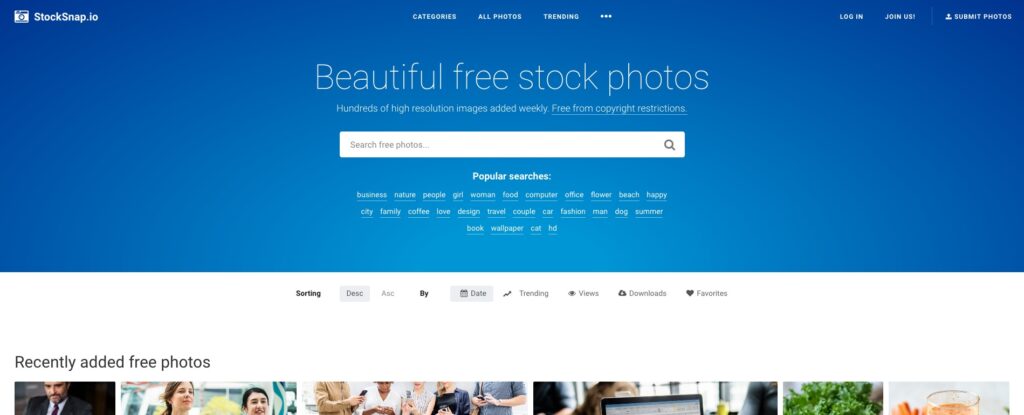 StockSnap offer a collection of beautiful and high quality images for free. All images are under a Creative Commons 1.0 license. They encourage photographers to contribute and give them attribution. They have strict contribution guidelines and quality control. StockSnap make revenue by showing relevant images from paid services like Shutterstock alongside the free images.
Features
Strict quality control
Creative Commons license
Well organised categories
Intuitive interface
High resolution images

SkitterPhoto is a place to share public domain images. All images are free to use for any purpose. It was launched in 2014 by photographers in the Netherlands. Alongside the free images they show paid image from Shutterstock.
Features
Well organised categories
Image popularity counts
High resolution images
Photograph background info

FreeStocks offer a selection of image that cover a wide range of themes for various purposes. It is run by a small team of photographers. Images are donated by other photographers. The site is very simple and clean. However it is a bit slow and limited in features compared to the competition.
Features
Simple interface
Tagged images for searching

DesignerPics is a very simple photo site. All the photos are taken by one photographer, Jeshu John. Attribution is appreciated but not necessary. As all the images come from one source the number is limited but the quality is high.
Features
Unique images by one photographer
Simple interface

Stockpic has only been running for a year but has some great quality images. It is run by a solo photographer that wanted to get his images in front of people. The images are free for personal and commercial use but cannot be resold.
Features
Intuitive and clean interface
large number of image categories
Best images tagged by the site owner

Burst is a free stock photo platform that is powered by Shopify. They offer thousands of high resolution and royalty free images. All photos are free for commercial use with no attribution required. Images are offered in both high resolution and lower resolution for web graphics.
Features
Great selection of images
Slick Shopify interface
Business ideas section
Royalty Free Stock Photos are a useful resource, especially for a business on a budget. From helping you avoid copyright infringement to aiding you in crafting a more credible social media presence, using royalty free stock photos is one of the simplest ways to enhance your company's visual brand at no cost.